You do remember the Apprentice, right?  It's hard to believe that it was seven years ago season one aired on NBC. I remember being there with Traci during the filming of season three and walking by the Trump tower – thinking about the show and what it meant to entrepreneurs all over.
As they say – time flies – It seems like yesterday I remember Donald Trump choosing Bill Rancic, an internet entrepreneur from Chicago, to be his right hand man for a year.  It was the first time in a long time that I really got into prime time TV when The Apprentice aired.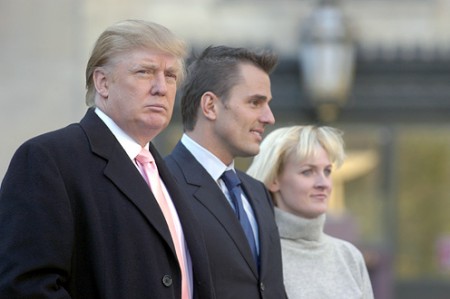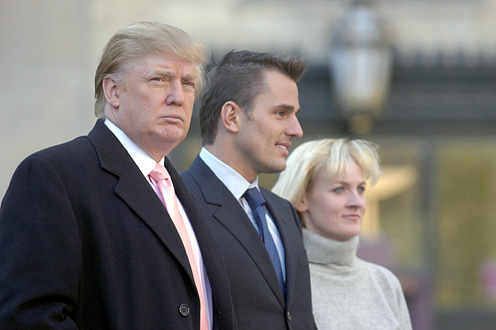 The Donald had seemingly leveraged his business acumen into show business, putting himself, his hair (is it real?) and the Trump organization into the homes of people all across America, if not the world.
Actually – truth be told, Mark Burnett, credited for creating the reality TV show genre and of Survivor fame, had approached the Donald to do the show at a party, and Trump agreed.
Season one was really the best season – and the recent stuff with Celebrity Apprentice isn't worth watching.
However – I do remember watching Bill be selected on live TV and feeling the excitement of his opportunity.
Recently, I had the opportunity to meet  with and speak to Bill Rancic at a private business function, where he was also the keynote speaker.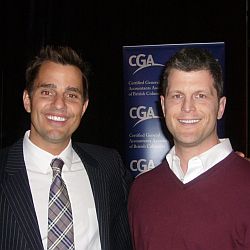 Bill's talk was one of the best I've heard, so good in fact that I was compelled to take notes ( actually I think I was the only one taking notes!).  His message was disguised as entertaining story after story about his unlikely path to  fame and business success.
Here are some of the highlights of Bill's message:
The first is to do what you fear – and the death of that fear is certain.  In fact, he reminded the audience that humans are born with only two fears – the fear of falling and the fear of loud noises – all other fears we learned along the way.
Bill's first assignment with Mr. Trump was joining him in Florida to help judge the Miss Universe contest, which of course was a staple in the Trump Organization entertainment division.
Tough job!
However, things got more serious quickly as Bill's main job was to oversee a large construction project.  He talked about how he faced his fears working in a domain that he knew little to nothing about, along side senior executives from HRH Construction – general contractors for the project in Chicago.
One of the notes that I thought was especially relevant to the managers in the audience from Bill's construction experience with Trump, came from one of the HRH executives who intelligently coached Bill with the advice to "be the conductor".
Of course this meant that Bill was to do his best managing what I call the "white space on the org chart".  The message was clearly to let the experts do their jobs – or help them play in harmony to continue the analogy; the architects, electricians, HVAC specialists, etc.
Good message – good analogy.
The talk then progressed to Bill sharing his assessment of dinners he'd shared with Ted Turner and Mark Cuban; both clearly different personalities – and minds I like.  He talked about how his experience working with and getting to know about some of America's business luminaries led him to three conclusions about their success in life, despite their radically different styles:
1. They are were good decision makers.  Bill said that Trump said to him during his time with the Trump Organization, "Ill  trust whatever decision you make, but I'll fire you if you don't make decisions.  The message is to take action and be action oriented – even if you aren't 100% sure.
2. Be creative and agile. Bill talked about how his first challenge on the show was selling lemonade at the proverbial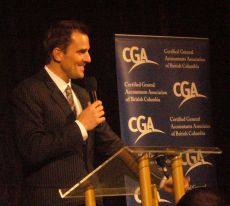 lemonade stand in 95 degree heat on a hot summer day on 5th Avenue in New York – sporting a suit no less.
Simple enough – however, the tasks became progressively more challenging from there, requiring him to adjust his thinking and management style when project leader.  Bill reconciled his ability to win the Apprentice because his competition had only their text books or singular business experiences to draw upon.  Lesson:  everything you do or learn matters someday.
3. Never give up and think like an owner. I especially liked this one because of it's value in my own life – whether things are really great or really bad – I try not to get too excited or too down either way – but just keep working towards the goal. Bill reminded the group that Trump didn't always have it easy – and came from one of the biggest comebacks in corporate history.  Most people probably don't know it, but Trump nearly lost it all in the late 80's.  Lesson: adversity+persistence gets you through.
Bill's just finished shooting a reality show for the A&E Network called We Mean Business where he goes into businesses and fixes them – I think it's kind of like Gordon Ramsey's Kitchen Nightmares or Tabatha's Salon Makeover.
That format is proven on TV, as is Bill – so it should be a good fit…provided Omarosa isn't in it.  Just kidding Omarosa.
No, actually, I'm not. 😉
Anyway Bill included a lot of other great content for both young entrepreneurs – as well as more seasoned ones.  From humble beginnings selling pancakes at five bucks a plate in his grandmothers house, to cigars online, to the Apprentice with Trump and now to expressing an attitude of gratitude on the speaking circuit – Bill has a good and worthwhile story to share.
What I also think makes Bill a good draw for the speaking circuit in addition to his new TV show is that he's humble, funny, comfortable in his own skin and most importantly, has accumulated a wide range of experience in a number of key industries – therefore he's got the breadth of expertise to speak to a wider audience, than say, someone who just hit it big with one play.
Oh – and let's not forget that that he also has first hand evidence the Donald's hair is real.  That's got to be worth something too, right?