This is one of those wineries that you could drive by and miss if you weren't paying attention. And if you did see it, you might not even stop because compared with some of the other wineries in the valley, it flies very low under the radar.
And if you did miss it, that would be a total shame because the wine is fantastic… and that's only the beginning.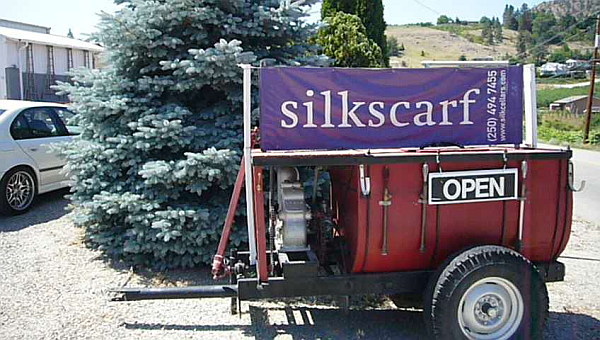 Speaking of flying – Silk Scarf Winery's owner has roots in aviation. Roie (owner and patriarch) flew for many years in Israel, before returning to his family's roots in wine making – except he wanted to do it on the other side of the world, in Canada. If you do get here – be sure to ask about the Silk Scarf story – I'm not going to tell it here because this post is about the experience at Silk Scarf and you should really hear it with your own ears.
After buying the winery sight-unseen (other than communication on the internet with the previous owner) Roie moved himself and his family clear around the world from the Middle East to the Okanagan and started what I feel is soon to be a very popular and well known winery. The fruit is still maintained with the same philosophy and farming practices of the prior owner who worked the land for the 20+ years before hand and is credited with teaching many of Summerland's farming and winery owners with the know-how they still use today.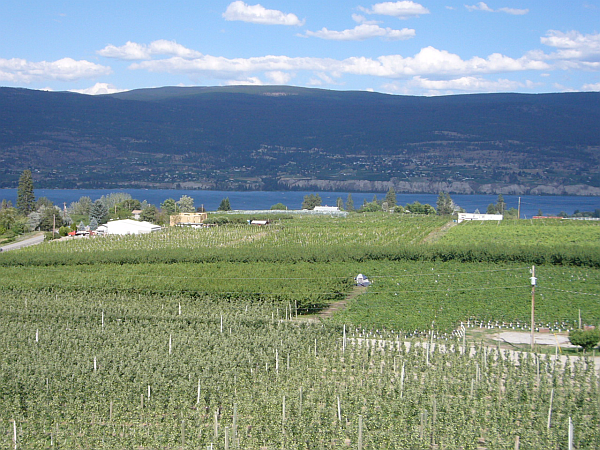 I think that the property is special because it clearly enjoys and benefits from a great micro-geography that delivers less wind and a few more hours of sun each day than other wineries in the region. When you see the property – you'll understand what I mean.
Already served by many of Vancouver's best restaurants such as Ouest, Bishops, Salmon House on the Hill, CinCin and The Blue Water Cafe among others, Silk Scarf's wines are unbelievably good. If Gary Vaynerchuk had been there I'm sure he'd have produced a video.

And if the wines aren't good enough – the Middle Eastern hospitality delivered by Roie's son Eden, his partner (and wonder-chef Tara), mom Ruth must be experienced to be believed. The care and attention that goes into the food made from local ingredients make each dish a total culinary adventure. And I couldn't forget the savvy, upscale urban touches added to the simple, but inviting wine shop designed by daughter Einat.
Food is only served on Saturday and Sunday. But don't expect expect to show up and be seated. Tara only makes enough food for about 25 people and you can only get in if you have a reservation. Tara used to work in a restaurant in Israel that served new dishes EVERY day. The same philosophy of food delivery happens here.  It's totally cool.  No two days are ever the same, although some dishes are often repeated, Tara will only produce what is available locally or brought over by other local farms.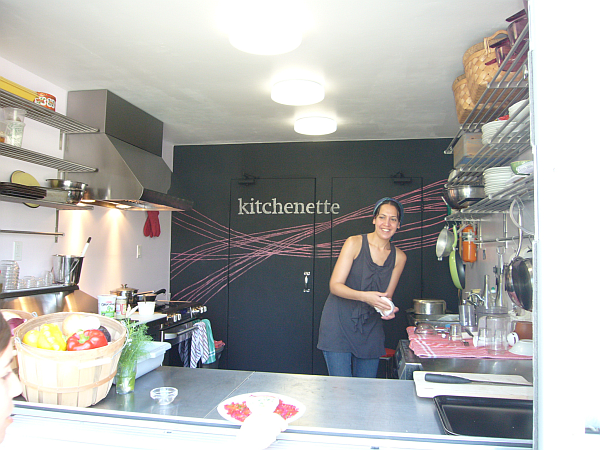 Her cooking is incredible and the way it's served is even more exciting. First of all, you don't need to order from the daily menu. Instead, you order the wine first and then they'll pair the food to whatever wine you chose. How cool is that?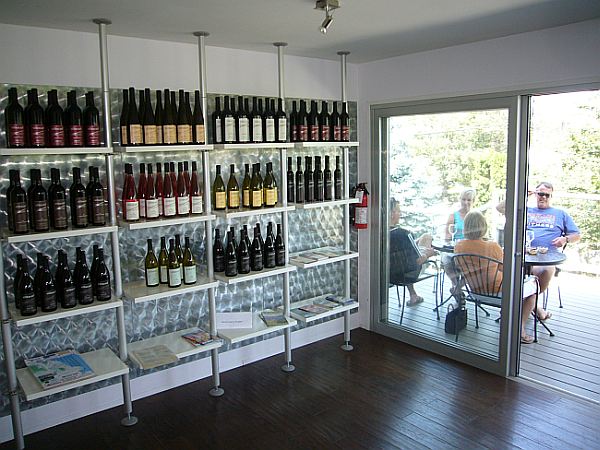 However, because there were five of us and we each ordered almost every wine they make (yes – they are all THAT good), we wound up getting nearly everything on the menu.
Food is served tapas style in small bowls and serving plates. Each dish was delivered one at a time as it was prepared fresh in the kitchenette. Eden took the time to describe where the ingredients came from and what we could expect to taste as he carefully brought out each dish and placed it on our table.
One of our guest had food allergies, which were immediately and graciously accommodated.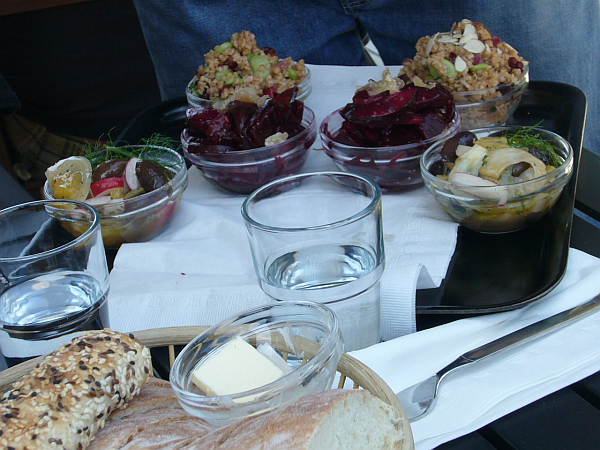 You literally fall in love with these people and their passion for food and wine. I wanted to move in and just eat and drink with them. They made you feel like family, but not overwhelmingly so. Never did we feel smothered, yet the service was perfect.
These people care about everything to do with wine and food and it totally shows. Their philosophy is simple, produce less product but make it really good.
Our reservations were for 12:30pm, but we didn't get there until 1:30pm due to highway construction closures on Highway 97. Once we arrived, we were welcomed and had a quick tasting before being seated on the outer deck, in the shade, but with a beautiful lake view.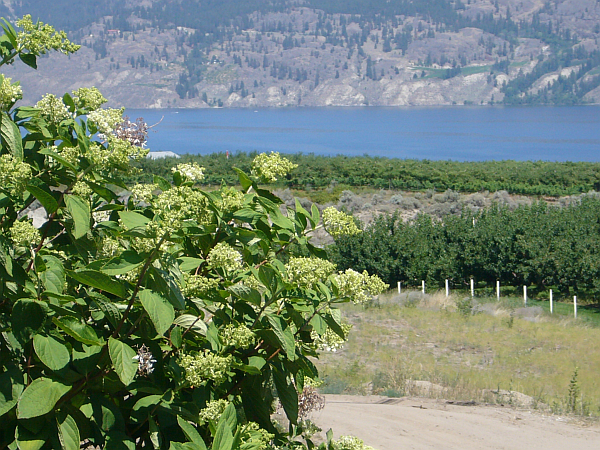 I had a glass of the 2006 Pinot Noir (which recently won top marks at the Northwest Wine Competition – beating out world class Pinots from the Columbia River and Willamette Valley regions). I've yet to find a Pinot like this in Okanagan and I think I've had all of them. Maybe Tom DiBello's Platinum Pinot from Cedar Creek – but other than that one, there's nothing else as good.
Upon being seated we ordered wines and began an awesome afternoon. The first dish we were brought was grilled peppers and capers in red wine vinegar. Then Dolmathes with fresh, young grape leaves from the vineyard. This was followed up with fresh Tagiliatelle pasta with zucchini and fresh basil. The sauce was so good I just wanted to drink it. When I asked how the sauce was made – Tara said, "it is special – the sauce becomes itself in the pan".
What do you say to that?
Then Eden brought us some pastries called burik made with 3 onions and parmesan. Then kalamata olives mixed with roasted fennel and citrus fresh herbs.
Don't even get me started on the roasted lamb and beef kabbbs served on cinnamon sticks over olive oil and tahini. I could eat a plate of those myself. Did I mention the bulgur salad with dried cranberries, fresh mint, lima beans mixed with a pomegranate reduction? I didn't think so.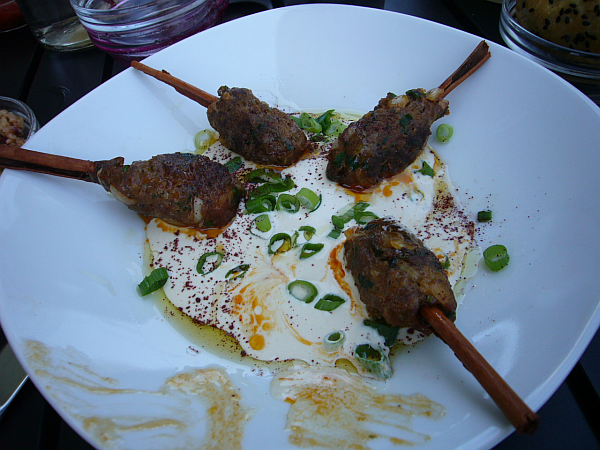 How about the roasted beats and plums mixed with candied australian ginger and thyme vinagrette? Probably forgot to tell you about that too, right?
Smoked salmon with chilled horseradish?  The colors alone are enough to get your heart rate up …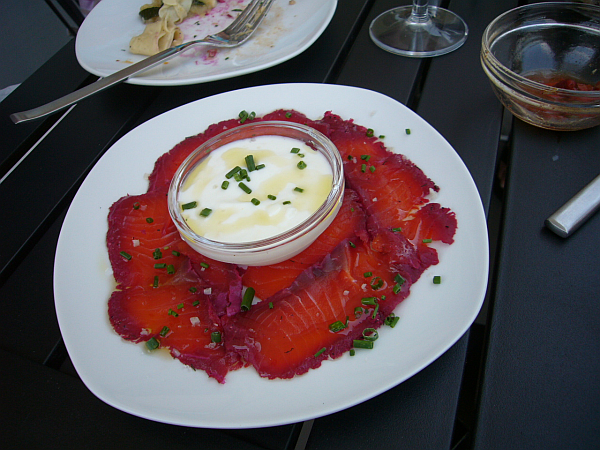 Serving the food this way was such a powerful, but simple method for showcasing the wines. Lunch was finished with complimentary chilled, Sonata cherries as big as plums and deep red as the merlot you must try.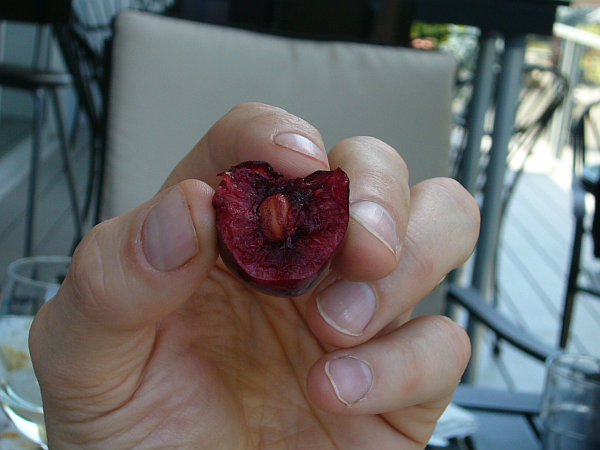 I thought to myself how special the experience was and was inspired to blog about it while looking at the amazing lake view of this beautiful place where I live…only to be gently interrupted by a one hundred and forty three pound gentle-giant of a dog named Bruno. He is the family mascot that tends to the 10,000 some vines and 10 acres of grapes on his daily jaunts through the vineyards. Bruno is a rescued dog who clearly displays his gratitude with un-ending affection for what amounts to a serendipitous lifestyle afforded to him by Silk Scarf's proprietors.  On hot days he can be found in the creek cooling off.
When I die, I want to come back as Bruno at Silk Scarf.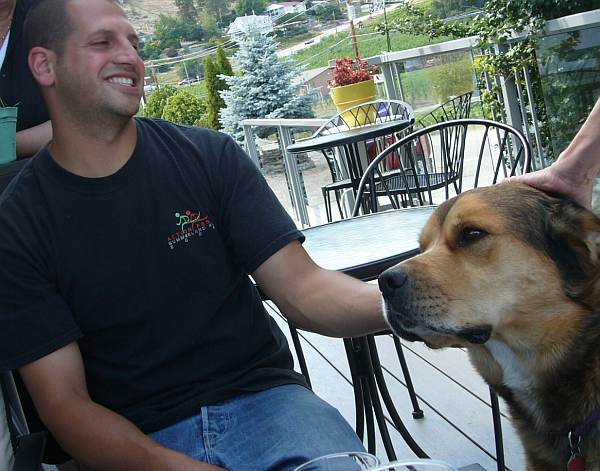 To top off an already unusually special winery visit, we were presented with a bill of $17 per person (plus wine) and a very clear request that we DO NOT leave a tip.
Pardon?
That's right – you do not tip at Silk Scarf: Knowing that you've enjoyed yourself and will come back is apparently enough for these savvy, kind and passionate business people.
There's no question that if they continue to deliver the experience I enjoyed, that they will soon be over – run with demand. I am pleased to share this experience as it was so positive and memorable.
The Pinot Noir is killer. The chardonnay unoaked and delicious. The viognier is dynamite.
Silk Scarf is about half-way between Kelowna and Penticton (click for a Google Map), just off highway 97. If there's ONE place you must stop – if only to try (and buy) some incredible wines, I highly recommend Silk Scarf – you won't regret it.