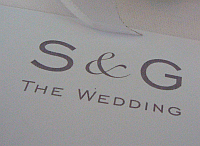 Last weekend we had the privilege of attending the wedding of some old friends. We combined the visit to Montreal with some vacation time.
Truth be known however, this trip was really about the wedding, despite our best efforts to sneak in some shopping and relaxing.
And what a wedding it was.
Having been to many weddings and receptions, I must admit that this was probably the most beautiful and romantic wedding I can recall having been to.
The night before the wedding we went to the apartment the bride and groom had rented near McGill University.  I love that old architecture with the high ceilings. At this pre-wedding event, we met some totally wonderful people.
Most of the guest list had flown in from western Europe – predominantly Holland, the UK and the Netherlands, since the bride and groom had relocated there many years ago, yet they met in Montreal.
Being Dutch, it was great to reconnect with some of my brethren.  Although I had never met any of these people before, we were quick to become friends and offer open invitations to visit each other in the future.
Montreal has some of the best night life that I have enjoyed.  Crescent street, off St. Catherines has some great pubs, bars and restaurants.
Old Montreal is even better.
The night before the wedding some of us went out to a great spot called Santos and enjoyed some killer tunes and great drinks, which is where the above photo was taken.
The wedding took place at Birks Chapel at McGill University.  This was followed by a beautiful outdoor reception at an incredible hotel in old Montreal.
One of the great surprises of this wedding, besides the great people we met, was how the bride and groom celebrated their friendships with each of the guests:
Before arriving, we each had to send a photo of ourselves with significant other, or alone if single. These pictures from the entire guest list were then professionally framed and showcased in classy, clean white frames.
Below each picture, within the framing, were words describing the meaning of the friendship from the bride and groom to each of those people.
Guests were all surprised to see these mounted on two large easels at the reception.  Most couldn't get away from reading those pictures and really got to know each other and how they fit into the bride and grooms lives.
As a gift to each guest, we were presented with this frame and photo to take home.  I thought it was a terrific, classy and warm touch to an already special day.
The food, the music, the people, the speeches and the setting were all superb.
It all went so fast and was such a positive experience. The next morning those who could make it had brunch at a local eatery in old Montreal, called Eggspectation to say goodbyes.
I hate goodbyes…………………………..